Introduction to InterSystems Reports
InterSystems Reports is powered by Logi Report (formerly named JReport®), a product of insightsoftware® (formerly Logi Analytics®). InterSystems Reports is supported by InterSystems IRIS® and InterSystems IRIS for Health™. It provides a robust modern reporting solution that includes:
Embedded operational reporting which can be customized by both report developers and end users.

Pixel-perfect formatting that lets you develop highly specific form grids or other special layout elements for invoices, documents, and forms.

Banded layouts that provide structure for aggregated and detailed data.

Exact positioning of headers, footers, aggregations, detailed data, images, and sub-reports.

A variety of page report types.

Large-scale dynamic report scheduling and distribution including export to PDF, XLS, HTML, XML, and other file formats, printing, and archiving for regulatory compliance.
InterSystems Reports consists of:
A report designer, which provides Design and Preview Tabs that enable report developers to create and preview reports with live data.

A report server which provides end users browser-based access to run, schedule, filter, and modify reports.
The basic workflow for InterSystems Reports has the following steps:
The report developer uses InterSystems Reports designer to define and format the report. Data from InterSystems IRIS is available while developing the report.

Once the report developer has completed the report they test it with InterSystems IRIS data and publish the report to the InterSystems Reports server.

Once reports have been published to the server, business users log in to the server via a browser.

From the server, users can:

Run, filter and modify reports.

Export to a variety of formats.

Schedule reports to be distributed via email or FTP.
The following illustration summarizes the process of report development. Report developers use the InterSystems Reports designer to define reports for end users. All source data from the InterSystems IRIS data platform are available to the report developer. Report system data, configuration of the report server and the report definitions, are also stored in InterSystems IRIS. The configuration does not have to be stored in the same InterSystems IRIS instance used as a report data source. When a report is complete, it is tested and published to the InterSystems Reports server.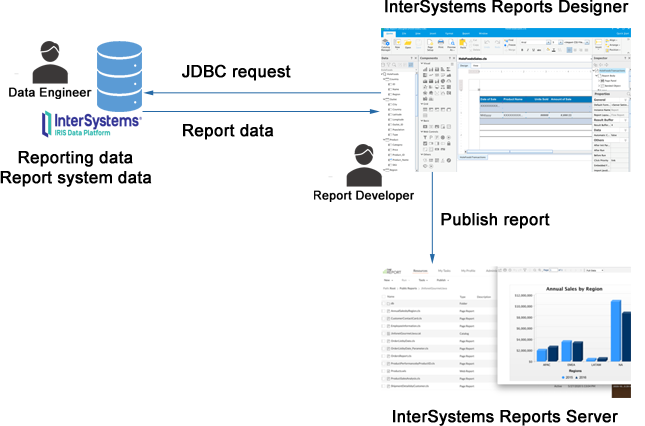 The next illustration shows use of published reports by a business user.

The Reports Server and published reports can be embedded into an InterSystems application or solution.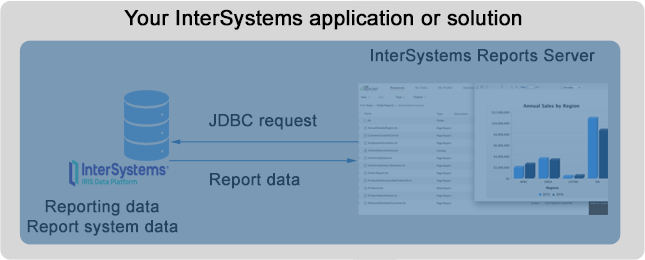 All configuration and management data for InterSystems Reports is stored in InterSystems IRIS if you use the setup scripting provided in the deployment kit.
The documentation provided by Logi Analytics at Logi Analytics documentationOpens in a new tab provides information on installing and using InterSystems Reports.
If you have questions about using InterSystems Reports, contact the Worldwide Response CenterOpens in a new tab (WRC).