About BPL Processes
The Ensemble Business Process Language (BPL) is a language used to describe executable business processes within a standard XML document. BPL syntax is based on several of the proposed XML standards for defining business process logic. A BPL business process class is derived from Ens.BusinessProcessBPL
. It is identical in every way to a class derived from Ens.BusinessProcess
, except that it supports BPL.
To create BPL classes in the Management Portal, navigate to Ensemble > Build > Business Processes. Ensemble then displays the Business Process Designer page. (When you open a BPL class in Studio, you also invoke the Business Process Designer; see "Notes on Creating BPL in Studio.")
When you navigate to the Business Process Designer page in the Management Portal, it opens with the last business process you worked on in this namespace. The tab at the left of the title bar contains the name of the BPL class. You can also choose to work on a different business process in one of the following ways:
Note that there is overlap among the options available in business processes, data transformations, and business rules. For a comparison, see "Comparison of Business Logic Tools" in Developing Ensemble Productions.
Using the Business Process Wizard
The Business Process Wizard enables you to quickly create a BPL business process class inherited from Ens.BusinessProcessBPL
. It provides the following dialog where you can define the preliminary characteristics of your BPL business process.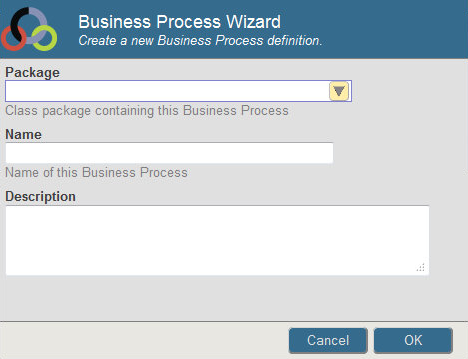 Enter values for the following fields:
Package
Enter a package name to contain the business process class or select from a list of packages in the namespace.
Name
Enter a name for your BPL business process class.
Description
(Optional) Enter a description for the data transformation; this becomes the class description.
When you complete the wizard by clicking OK, the start and end points of the BPL diagram display in the Business Process Designer, ready for you to add activities to your BPL business process.
Business Process List
The Business Process List page displays a list of business process classes defined in the active Ensemble namespace. To navigate to this page in the Management Portal, select Ensemble > List > Business Processes.
BPL business processes are displayed in blue; you can double-click one to open it in the Business Process Designer. Business processes displayed in black are custom classes you must edit in Studio.
You can select a business process class to be the target of one of the following commands in the ribbon bar:
New — Click this to launch the Business Process Wizard, discussed earlier in this chapter.

Open (BPL classes only) — Click this to edit the selected business process.

Export — Click to export the selected business process class to an XML file.

Import — Click to import a business process that was exported to an XML file.

Delete — Click to delete the selected business process class.

Instances — Click to list any current instances of the business process in the running production. If a business process has completed its work, there is no entry for it on this page.

See Monitoring Ensemble.

Rule Log — Click to view the business rule log for rules invoked by this business process.

See Monitoring Ensemble.
You can also export and import business process classes as you do any other class in Ensemble. You can use the Classes page of the Management Portal (System Explorer > Classes) or use the Export and Import commands on the Tools menu in Studio.
BPL Features
BPL is a language used to describe executable business processes within a standard XML document. BPL syntax is based on several of the proposed XML standards for defining business process logic, including the Business Process Execution Language for Web Services (BPEL4WS or BPEL) and the Business Process Management Language (BPML or BPMI).
BPL is a superset of other proposed XML-based standards, in that it provides additional elements whose purpose is to help you build integration solutions. These additional elements include support for the following:
Execution flow control elements such as <branch>, <if>, <switch>, <foreach>, <while>, and <until>. For information about how to use these and other BPL syntax elements, see the Ensemble Business Process Language Reference.

Generation of executable code from business process logic.

Embedding SQL and custom-written code into the business process logic.

The Business Process Designer, a full-featured, visual modeling tool for graphically viewing and editing business process logic. This tool includes complete round-trip engineering between the visual and BPL representations of the business process. Changes to one representation are automatically reflected in the other.

Automatic support for both asynchronous and synchronous messaging between business processes and other members of an integration solution. BPL streamlines this difficult and error-prone programming task.

Persistent state. BPL permits a long-running business process to automatically suspend execution — and efficiently save its execution state to the built-in, persistent cache embedded in Ensemble — whenever it is inactive; for example, when it is waiting for an asynchronous response. Ensemble automatically manages all state preservation and the ability to smoothly resume processing.

Rich and varied data transformation services, including SQL queries embedded within the business process.
You can create a BPL business process using the Management Portal or Studio. The recommended way is to use the Business Process Wizard from the Business Process Designer page of the Management Portal. See later chapters of this book for details.
Using a Business Process as a Component
A business process component or BPL component is a BPL business process that a programmer wishes to identify as a modular, reusable sequence of steps in the BPL language. A BPL component is analogous to a function, macro, or subroutine in other programming languages.
Only another BPL business process can call a BPL component. It does this using the BPL <call> element. The BPL business process component performs tasks, then returns control to the BPL business process that called it.
The Ensemble architecture already allows one BPL business process to call another BPL business process. The optional component designation simply provides convenience. It allows you to classify certain BPL business processes as simpler, lower-level components that:
Are not intended to run as stand-alone business processes (although nothing in the architecture prevents this)

May be reusable (in the sense of a function, macro, or subroutine in the BPL language)
Business processes that are not components are assumed to have more complex, special-purpose designs, and to operate at a higher conceptual level than components. It is expected that BPL non-components call BPL components to accomplish tasks.
Important:
There is no requirement that you use the component designation for any BPL business process. It is available as a convenience for any BPL programmer who prefers it.
You make a business process into a component by setting an attribute of the top-level <process> container for the BPL business process. The attribute is called component and you can set it to 1 (true) or 0 (false). For syntax details, see the Ensemble Business Process Language Reference.
To set the value of the component attribute, you can do either of the following:
In the General tab of the Business Process Designer, select Is component to include this process in the Component Library.

Edit the BPL <process> element within the XData BPL block in the class code using Studio.
To set up a <call> to a component from a BPL business process, see &OpenCurlyDoubleQuote;Adding a Call Activity,&CloseCurlyDoubleQuote; later in this book.
Business Process Execution Context
The life cycle of a business process requires it to have certain state information saved to disk and restored from disk, whenever the business process suspends or resumes execution. This feature is especially important for long-running business processes, which may take days or weeks to complete.
A BPL business process supports the business process life cycle with a group of variables known as the execution context. Ensemble automatically save the variables in the execution context and restores them each time the BPL business process suspends and resumes execution. These variables are available to every BPL business process; that is, to every business process class that inherits from Ens.BusinessProcessBPL
.
Important:
Custom business processes that inherit from Ens.BusinessProcess
do not have access to a built-in execution context and must handle similar issues using custom code.
Some of the execution context variables are available to every activity within a BPL business process. Others are generally available, but go in and out of scope, depending on the type of activity that the business process is executing at the time. The following topics describe the execution context variables and when they are available to a BPL business process. The variables are:
Tip:
For detailed information about BPL syntax on BPL elements such as <process>, <context>, and <call>, see the Ensemble Business Process Language Reference, which also provides reference information for the context variables.
BPL Business Process Example
The following sample business process is similar to a class in the sample production package Demo.Loan in the ENSDEMO namespace. In this business process, three different banks can be consulted for prime rate and credit approval information.
///

 

Loan Approval Business Process for Bank Soprano.




///

 

Bank Soprano simulates a bank with great service but




///

 

somewhat high interest rates.




Class

 

Demo

.

Loan

.

BankSoprano

 

Extends

 

Ens

.

BusinessProcessBPL




{





XData

 

BPL




{




<

process

 

request

=

"Demo.Loan.Msg.Application"




         

response

=

"Demo.Loan.Msg.Approval"

>





  

<

context

>




    

<

property

 

name

=

"CreditRating"

 

type

=

"%Integer"

/>




    

<

property

 

name

=

"PrimeRate"

 

type

=

"%Numeric"

/>




  

</

context

>





  

<

sequence

>





  

<

trace

 

value

=

'

"received application for "

_

request

.

Name

'

/>





  

<

assign

 

name

=

'Init Response'




          

property

=

"

response

.

BankName

"




          

value

=

'

"BankSoprano"

'

>




    

<

annotation

>




      

<!

[

CDATA

[

Initialize

 

the

 

response

 

object.

]]>




    

</

annotation

>




  

</

assign

>





  

<

call

 

name

=

"PrimeRate"




        

target

=

"Demo.Loan.WebOperations"




        

async

=

"1"

>




    

<

annotation

>




      

<!

[

CDATA

[

Send

 

an

 

asynchronous

 

request

 

for

 

the

 

Prime

 

Rate.

]]>




    

</

annotation

>




    

<

request

 

type

=

"

Demo

.

Loan

.

Msg

.

PrimeRateRequest

"

/>




    

<

response

 

type

=

"

Demo

.

Loan

.

Msg

.

PrimeRateResponse

"

>




      

<

assign

 

property

=

"

context

.

PrimeRate

"




              

value

=

"

callresponse

.

PrimeRate

"

/>




    

</

response

>




  

</

call

>





  

<

call

 

name

=

"CreditRating"




        

target

=

"Demo.Loan.WebOperations"




        

async

=

"1"

>




    

<

annotation

>




      

<!

[

CDATA

[

Send

 

an

 

asynchronous

 

request

 

for

 

the

 

Credit

 

Rating.

]]>




    

</

annotation

>




    

<

request

 

type

=

"

Demo

.

Loan

.

Msg

.

CreditRatingRequest

"

>




      

<

assign

 

property

=

"

callrequest

.

TaxID

"

 

value

=

'

request

.

TaxID

'

/>




    

</

request

>




    

<

response

 

type

=

"

Demo

.

Loan

.

Msg

.

CreditRatingResponse

"

>




      

<

assign

 

property

=

"

context

.

CreditRating

"




              

value

=

"

callresponse

.

CreditRating

"

/>




    

</

response

>




  

</

call

>





  

<

sync

 

name

=

'Wait'




        

calls

=

"

PrimeRate

,

CreditRating"




        

type

=

"all"




        

timeout

=

"10"

>




    

<

annotation

>




      

<!

[

CDATA

[

Wait

 

for

 

the

 

response

 

from

 

the

 

async

 

requests.




               

Wait

 

for

 

up

 

to

 

10

 

seconds.

]]>




    

</

annotation

>




  

</

sync

>





  

<

switch

 

name

=

'Approved?'

>





    

<

case

 

name

=

'No PrimeRate'




          

condition

=

'

context

.

PrimeRate

=

""

'

>




      

<

assign

 

name

=

'Not Approved'




              

property

=

"

response

.

IsApproved

"




              

value

=

"

0

"

/>




    

</

case

>





    

<

case

 

name

=

'No Credit'




          

condition

=

'

context

.

CreditRating

=

""

'

>




      

<

assign

 

name

=

'Not Approved'




              

property

=

"

response

.

IsApproved

"




              

value

=

"

0

"

/>




    

</

case

>





    

<

default

 

name

=

'Approved'

 

>




      

<

assign

 

name

=

'Approved'




              

property

=

"

response

.

IsApproved

"




              

value

=

"

1

"

/>




      

<

assign

 

name

=

'InterestRate'




          

property

=

"

response

.

InterestRate

"




          

value

=

"

context

.

PrimeRate

+

10

+

(

99

*

(

1

-

(

context

.

CreditRating

/

100

)

)

)

"

>




        

<

annotation

>




          

<!

[

CDATA

[

Copy

 

InterestRate

 

into

 

response

 

object.

]]>




        

</

annotation

>




      

</

assign

>




    

</

default

>





  

</

switch

>





  

<

delay




    

name

=

'Delay'




    

duration

=

"2+($zcrc(request.Name,4)#5)"

>




    

<

annotation

>




      

<!

[

CDATA

[

Wait

 

for

 

a

 

random

 

duration.

]]>




    

</

annotation

>




  

</

delay

>





  

<

trace

 

value

=

'

"application is "




         

_

$s

(

response

.

IsApproved

:

"approved for "

_

response

.

InterestRate

_

"%"

,




         

1

:

"denied"

)

'

/>





  

</

sequence

>




</

process

>




}





}