Model View Controller
Model View Controller, or MVC, is a well known architecture for user interface design. This chapter describes how Zen implements MVC, and how to add MVC features to a Zen page.
To simplify the flow of data from a data source to a Zen page, Zen provides a set of classes that let you define a data model (the model) and connect it to a set of Zen components (the view) via an intermediate object (the controller). When the model associated with a controller changes, these changes are automatically broadcast to all views connected to the controller.
The following are some typical uses of MVC:
Create a form that displays a set of properties, loaded from a persistent object within the database. The form automatically displays controls appropriate to the data type of each property.

Display a chart based on values within a form. The chart automatically updates its display whenever the user submits any changes to the form.

Display meters representing values calculated on the server. When the page is refreshed, these meters automatically update themselves with current values from the server.
The following figure shows the three parts of the Zen MVC architecture — model, view, and controller — and indicates where these objects execute their code. The controller and its associated views are Zen components, placed on the Zen page. The controller component is hidden from view, but view components are user-visible. The view components display data values, which they obtain by requesting them from the controller. The controller resides on the client, but has the ability to execute code on the server. The model resides entirely on the server. It draws its data values from a source on the server and can respond to requests for data from the controller.
Model View Controller Architecture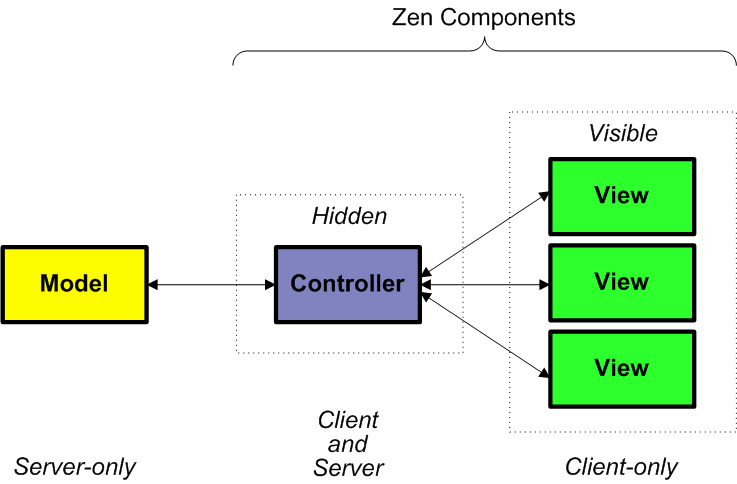 The next three sections in this chapter expand the discussion of each part of the previous figure:
"Model"

"Controller"

"View"
Remaining sections in this chapter provide a series of exercises that show how to use MVC features to create a form: