---



Developing DTL Transformations

Testing Data Transformations



---
After you compile a data transformation class, you can (and should) test it. This chapter describes how to do so. It contains the following sections:
The Management Portal provides the
Test Transform
wizard. You can access this from the following locations in the Management Portal:
Click

from the

Tools

tab in the Data Transformation Builder
Initially the
Output Message
window is blank and the
Input Message
window contains a text skeleton in a format appropriate to the source message. To test:
Edit the

Input Message

so that it contains appropriate data. What displays and what you enter in the input box depends on your source type and class:

For EDI messages, the window displays raw text; have some saved text files ready so that you can copy and paste text from these files into the

Input Message

box.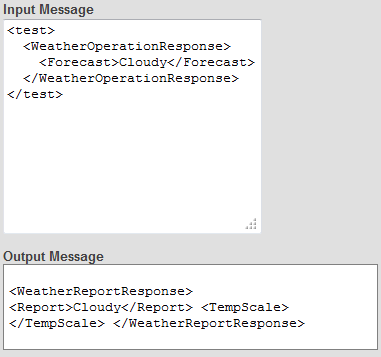 To test a transformation programmatically, do the following in the Terminal (or write a routine or class method that contains these steps):
Invoke the

Transform()

class method of your transformation class. This method has the following signature:

Examine the target message and see if it has been transformed as wanted. For an easy way to examine both messages in XML format, do the following:

Optionally set the

Indent

property of that instance equal to 1.

Call the

RootObject()

method of the writer instance, passing the source message as the argument.
    

//create an instance of the source message




    

set

 

source

=

##class

(

DTLTest

.

Message

)

.

CreateOne

(

)




    




    

set

 

writer

=

##class

(

%XML

.

Writer

)

.

%New

(

)




    

set

 

writer

.

Indent

=

1




    

do

 

writer

.

RootObject

(

source

)




    

w

 

!

!




    

set

 

sc

=

##class

(

DTLTest

.

Xform1

)

.

Transform

(

source

,

.

target

)




    

if

 

$$$

ISERR

(

sc

)

 

{

do

 

$system

.

Status

.

DisplayError

(

sc

)

}





    

set

 

writer

=

##class

(

%XML

.

Writer

)

.

%New

(

)




    

set

 

writer

.

Indent

=

1




    

do

 

writer

.

RootObject

(

target

)
---

Content Date/Time: 2019-02-21 01:13:36