Overview of Distributed Caching
Overview of Distributed Caching
The InterSystems IRIS distributed caching architecture scales horizontally for user volume by distributing both application logic and caching across a tier of application servers sitting in front of a data server, enabling partitioning of users across this tier. Each application server handles user requests and maintains its own database cache, which is automatically kept in sync with the data server, while the data server handles all data storage and management. Interrupted connections between application servers and data server are automatically recovered or reset, depending on the length of the outage.
Distributed caching allows each application server to maintain its own, independent working set of the data, which avoids the expensive necessity of having enough memory to contain the entire working set on a single server and lets you add inexpensive application servers to handle more users. Distributed caching can also help when an application is limited by available CPU capacity; again, capacity is increased by adding commodity application servers rather than obtaining an expensive processor for a single server.
Distributed Cache Cluster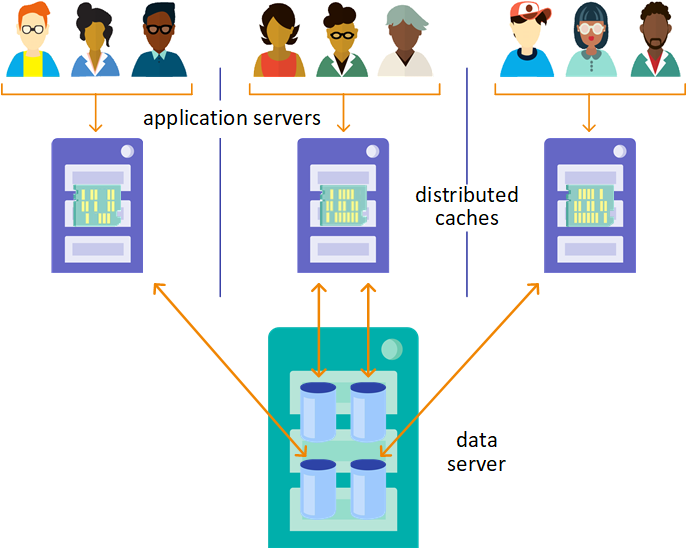 This architecture is enabled by the use of the Enterprise Cache Protocol (ECP), a core component of InterSystems IRIS data platform, for communication between the application servers and the data server.
The distributed caching architecture and application server tier are entirely transparent to the user and to application code. You can easily convert an existing standalone InterSystems IRIS instance that is serving data into the data server of a cluster by adding application servers.
The following sections provide more details about distributed caching: